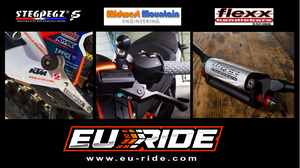 About Us
We are a team of passionate motorcyclist that love the off road world. We are sure that once you try our products you will never want to ride again without them.
Only the Best, unique and incredible products like the Flexx Handlebars, Impact Pegz, Midwest Clever Levers and the Steg Pegz provide an uncomparable riding experience. Please see them in full detail in our products section.
We are very active in our world, the racing world as well as our costumers all over Europe and beyond. Please take a look at our latest events.                                                         
Because YOU RIDE, WE RIDE, EU>>RIDE